Discover Guadeloupe from a higher point of view! 

Visitez la Guadeloupe autrement !
Guadeloupe is absolutely magnificent from the skies! Pointe des Châteaux, Petite-Terre, La Désirade …
Discover its exceptional panoramas while experiencing one of our numerous sightseeing tours.
Imagine, you will be seated right next to your pilot while flying in our two-seater Ultralight.
Possibility for several persons to fly together in tandem flight patrol!
Or be adventurous and select your own discovery itinerary "A la carte».
6 circuits | 4 types of flying machines
It will be up your own choice to decide what ever discovery tour or ultralight machine that you feel like experiencing, according to your mood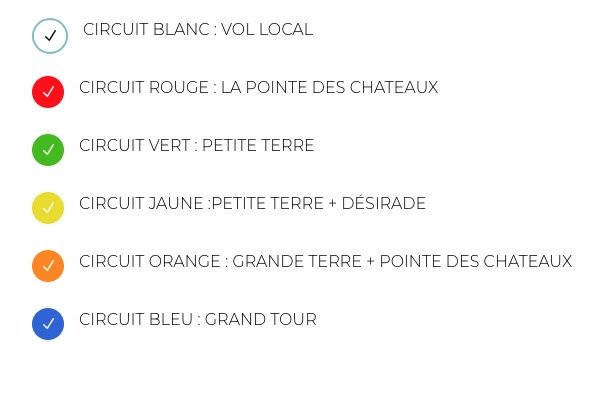 6 circuits | 4 types of flying machines
It will be up your own choice to decide what ever discovery tour or ultralight machine that you feel like experiencing, according to your mood
Red : la pointe des chateaux
Yellow :petite terre + désirade
Orange : grande terre + Pointe des chateaux
» JUST TO GET YOU MOTIVATED «

Aérodrome
97118 Saint-François - Guadeloupe
Tél : 0690 64 28 48
(depuis l'étranger : +590 690 64 28 48)