Guadeloupe ULM flying school
Ulm caraïbes flying school has trained more than fifty pilots in the archipelago.
Several instructors at your disposal.
THE MULTI-AXIS ULTRALIGHT Pilot License
General conditions :
To be over 15years of age
Pass a written test multi choice answer type exam (free) organized periodically by the civil aviation district
Satisfy to frequents controls of your aeronautical knowledge organized by your instructor
Get enough experience so your instructor will decide that you could fly alone in the airplane
Obtain a flight authorization with passengers after control and advance training
Obtain a restricted certificate of radio telephony
Mandatory Documents :
1 ID
3 ID photos
Proof of written test passed
LE BREVET DE PILOTE D'ULM MULTI-AXES
Les conditions générales :
Avoir 15 ans révolu,
Satisfaire à un examen théorique (gratuit) sous forme de QCM organisé périodiquement par le district aéronautique,
Satisfaire à un contrôle de vos connaissances théorique multi-axes organisé par votre instructeur,
Obtenir une autorisation de vol seul à bord délivrée par votre instructeur,
Obtenir une autorisation de vol avec emport de passagers après contrôle et perfectionnement,
Obtenir un certificat restreint de radio téléphonie.
Le dossier :
1 pièce d'identité
3 photos d'identité,
original du certificat d'aptitude à l'épreuve théorique.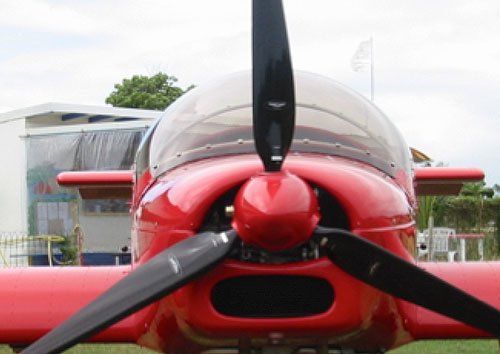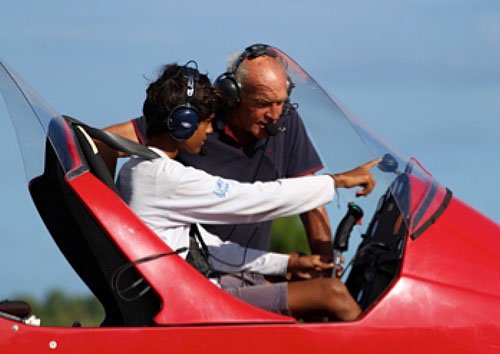 DETAIL OF TRAINING PHASES
Flight initiation and safety procedures discovery (about 15 hours dual training with your instructor).
When you instructor will estimate that you have enough experience to fly by yourself, you will be asked to do one traffic circuit pattern, alone in the aircraft (This moment, you will never forget).
After only a few more flying hours, you will normally qualify for "solo flights authorization" and your training will continue.
Then, your instructor will teach you how to navigate. It will be then a real pleasure experiencing cross-country flying until you finally obtain your pilot license. Only at this moment, you will allow you to carry a passenger friend with you.
Flight school training is charged 139 € an hour including instructor
Autogiros: 160 € / hour with instructor)
Ground course: 15 € / hour.
Each training period includes the following phases: a ground course, a before flight breifing, a 30 minutes flight time, then a debriefing.
Your instructor will fully assist and guide your progression until you succeed to the theoretical exam.
The training sessions include a theoretical course, a pre-flight briefing, 30 minutes of flight time and a debriefing.
You will be guided and directed by your instructor to prepare the theoretical exam.
INITIATION and DISCOVERY FLIGHTS
Learning how to fly an airplane is an extraordinary experience:
From the first minute, we focus essentially on pleasure! Imagine you will be in command right after take-off, of course guided your instructor.
Once you will get used to "the third dimension" you will learn how to perform simple maneuvers.
Aircraft presentation, Pre-Flight Briefing, 42-minutes of flight, debriefing: 160 €
Decide to learn how to fly an airplane is an important decision.
Our "DECLIC" formula helps you decide whether or not, your appeal for flying can evolve into a real passion.
"DECLIC" is a 3-hour module which includes of theoretical course and two hours of flight. We usually split this training program into 6 flights of 30 minutes which is much more efficient for the student. Each session includes a briefing, a 30 minutes flight and a debriefing. Theoretical courses will allow you to understand constraints related to flying. Should you decide to continue your training, our "DECLIC" formula will be included into the training program leading to the obtention of your pilot license.
Two hours of flight with instructor + One hour of theoretical training: 320€

Aérodrome
97118 Saint-François - Guadeloupe
Tél : 0690 64 28 48
(depuis l'étranger : +590 690 64 28 48)